A compact pistol adapted to boating
The Binks brand of the Carlisle Fluid Technologies group has been specializing in spray painting since 1890. Its Binks MXL high-pressure pump is particularly suitable for small and medium-sized shipyards. Combined with the Binks AA4400 spray gun, it allows the application of thick products such as primers or antifouling paints. Airless Air Assisted type, its low flow rate makes it effective for small volumes and small boats, while high pressure ensures good atomization.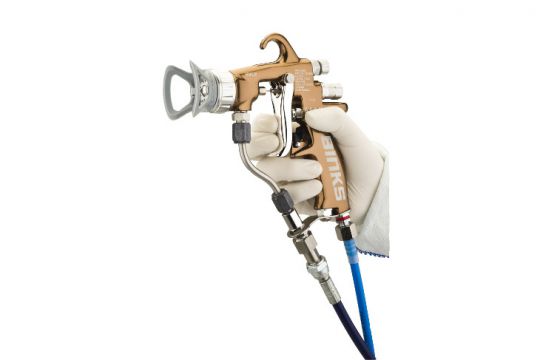 Saving time and money
While many shipyards are used to working with rollers and rabbit's feet, switching to spraying and high pressure ensures a significant economic gain. During studies carried out directly on construction sites, in partnership with a paint manufacturer, Carlisle Fluid Technologies compared the two methods. On a 7-metre sailboat, the antifouling application time, taking into account the machine's preparation, went from 3 hours 35 minutes with the traditional method to 1 hour 33 minutes with the Binks MXL pump. The break-even point was estimated at 415 m² of painted hull per year.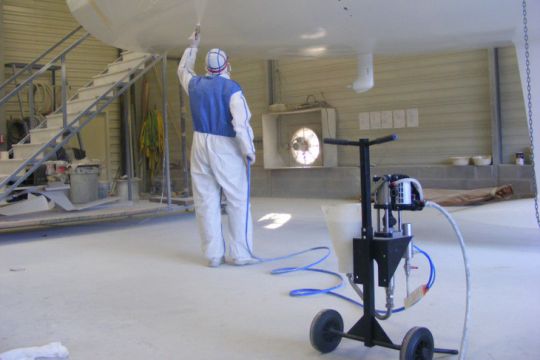 Reliable and easy to maintain
Thanks to the thinness of its superflex type pipes and its compactness, the Binks MXL pump is quick to rinse. The flexibility of the hoses limits operator fatigue. Reliable, low-maintenance and easy to handle.
The optional 6L capacity bucket allows quick priming and limits the amount of paint required.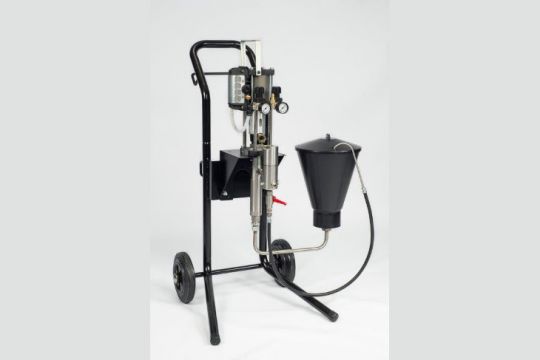 Spraying in all its forms
The Carlisle Fluid Technologies group's offer goes beyond the field of painting. Through its 5 brands Devilbliss, Ransburg, MS, BGK and Binks, the company offers spray solutions for primers and adhesives, used in many industries. Its electrostatic guns conquer the superyacht paint market when its RAM pusher trays allow the bonding of teak decks.