A multi-operator platform
All statistics presented in this article are published by GlobeSailor. Although the figures do not represent the entire market, according to the Internet platform it is a panel of 40,000 international customers who have rented boats from 800 professional operators. In the absence of other independent indicators, their interest is certain.
Croatia, queen of cruises
In 2017, Croatia becomes the preferred destination of the site's customers ahead of France. 24% of boaters reach its Adriatic coast, while 18% cross the French coast. The international clientele tipped the balance, while French sailors continued to favour the French coast. Greece continued its recovery, accounting for 17% of bookings. Italy and Spain follow.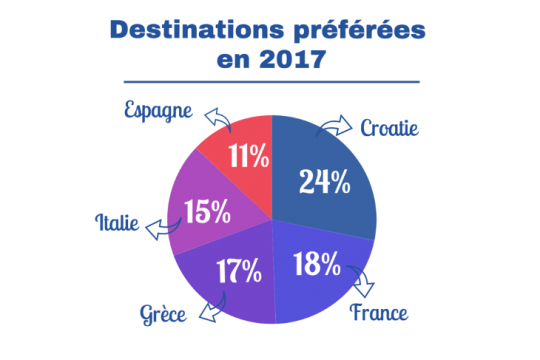 The Caribbean, the leading destination outside Europe, is suffering from the hurricane season marked by hurricanes Irma and Maria. Pleasure boaters seem to be referring to the Indian Ocean. Thailand and the Seychelles posted an increase of +9%.
Different boats in different navigation basins
With only 6% of motor boat bookings, only sailing data is relevant. If catamarans represent slightly more than a third of the bookings in winter destinations, from the Caribbean to the Pacific, they account for only 10% of the yachts rented in the Mediterranean. The big construction sites are taking the lion's share. Lagoon monopolises the top 5 places in the ranking of the most leased catamarans, while Bavaria and the Bénéteau group share those of the monohulls. These performances are probably to be qualified compared to the fleet proposed by GlobeSailor's professional partners.
No more cabin rentals and skippers
Interest in round the world sailing and ocean racing records has boosted the cruise industry, reaching a wider and less experienced audience. This trend is confirmed by the 22% increase in skipper rentals, but also by the 50% jump in cabin bookings.