Setting up a shipyard to build the boat
Magma Composites is the fruit of a series of opportunities. After several years in project and production management for Multiplast and CDK Technologies, Olivier Pavia set up his own design office. He works for different ocean racing teams. "It started by meeting Vincent Lauriot-Prévost on the market in Vannes on a Saturday morning. He tells me about one of his clients, a very experienced amateur yachtsman, who has a 30-foot catamaran project in the cards and proposes to work on it for the design and development with VPLP. I was then responsible for site management during construction. "explains the young engineer.
Finally, the construction site which was to ensure the construction sees its order book filled by a larger project. Olivier Pavia decided to partner with his client to create Magma Composites on May 12, 2017 and build the catamaran himself.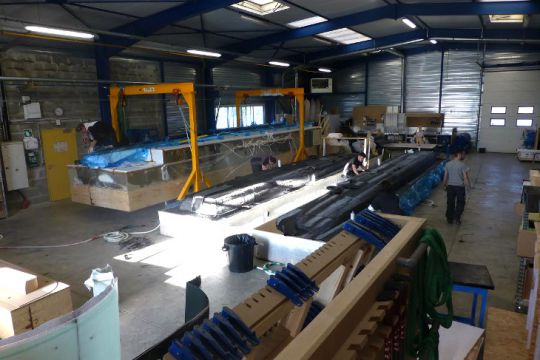 Magma Composites Workshop
Installation in Questembert
In search of premises between Lorient and Muzillac, to take advantage of the local nautical environment, Magma Composites settles in the Questembert business incubator. The site initially invested 450 m², well insulated, dedicated to infusion and assembly. In December 2017, 250 m² will be added for the oven and the manufacture of prepreg carbon parts. "When I arrived, I was surprised by Questembert's economic dynamism and the quality of its supplier network. We hired four students from the plastics program at Marcellin-Berthelot High School."
The partners have already invested 150 000 € ? in the equipment, including a 12.5 m long oven. The company should quickly equip itself with a 3-axis machining center. It already employs 7 people and wishes to hire 3 new employees.
The catamaran to start
Magma Composites' primary objective and showcase, the first catamaran should be launched in June 2018. With a length of 30 feet and dedicated to a sporty offshore navigation, it will be foldable and transportable in containers. After development, series production can begin.
Magma Composites is also positioned on the subcontracting market for yachting and ocean racing, but also for industry.