A variety of textile solutions
Nodus Factory has been developing textile fittings since 2015. Since its first success at METS, thanks to the T-Close, a textile snap hook with adjustable loop, the company has created many products to meet all the needs on board sailing yachts thanks to modern fibres. The T-smile and T-drop, other carabiners in the catalogue, allow release under load, while the T-sail is used to quickly and lightly connect the downwind sails.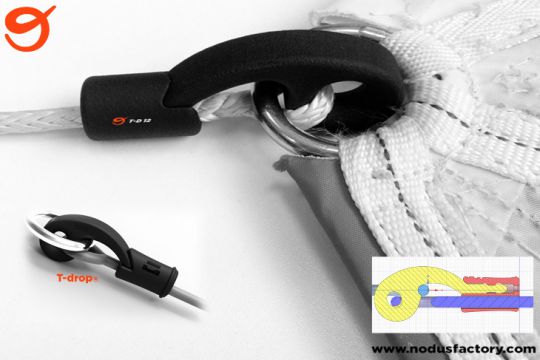 Nodus Factory has also developed intelligent solutions for the various accessories on board. The T-lazy simplifies the adjustment of lazy-bags. Thanks to the T-bat, the novice sailor can adjust the height of his fender without touching his knot.
The ready-to-integrate textile
According to the needs of professionals, Nodus Factory offers its products with different levels of finish in its special "Rigger Sail" catalogue. The seamstress wishing to splice himself may only buy the connectors, whether they are recycled titanium T-bone or T-close, T-sail and T-drop. For his part, the master sailmaker who wants to save time will get his supply of estropes, ready to sew on his sails. The Snake Loops, already spliced loops, with an easily identifiable resistance thanks to the industrial colour code, will easily be used to fix all types of fittings. The varnish seal, which breaks when the maximum working load is exceeded, allows a visual inspection of the product.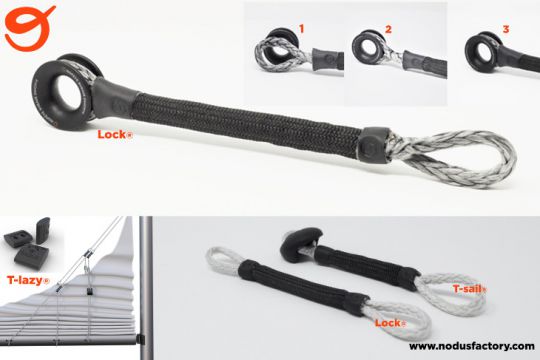 Already used by top-of-the-range hardware manufacturers such as Karver or Rope Eye to secure their pulleys, Nodus Factory products are attracting more and more rigger-matchers, shipyards or sailmakers, thanks to moderate prices.
Certified products
While the strength of textile assemblies, made manually on a case-by-case basis, is difficult to verify, each of Nodus Factory's products is certified by Bureau Veritas, ensuring the admissible load. Tests on a test bench were carried out and the manufacturing process validated. The company also has ISO 9001 certification, a guarantee of its quality process.