Can you give us some figures to position Intermer - Accastillage Diffusion on the market?
Thierry Gannat: The Intermer buying group, a franchisor under the name Accastillage Diffusion, is part of the Alliance Marine group. It represents 400 people with 9 subsidiaries and 6 warehouses. The company has 80% of its references in stock and 125 points of sale, including 70 in France, 30 in Spain and 15 in Italy.
What were your main actions and results in 2017?
Thierry Gannat: 2017 was the best year since the network was created, with strong store momentum and the opening of 10 new stores: 3 Accastillage Diffusion in Toulon, Marseille-Estaque, Ampuria Brava and 7 AD Corner.
We have worked on our price image, as can be seen on this stand of the Nautic 2017 (Editor's note: interview carried out during the exhibition). In a benchmark we did on a typical basket of fittings, we were the cheapest and yet that was not what the customer satisfaction surveys showed. So we worked on the presentation of the products.
We have also created a rope stock in our 4,000 m² hangar.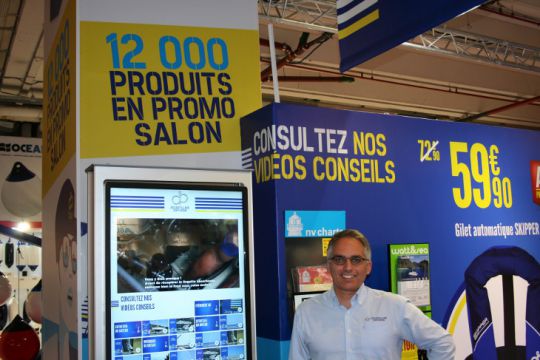 Who is the typical customer of Accastillage Diffusion today?
Thierry Gannat on the stand Accastillage Diffusion at Nautic 2017 This is a male yachtsman, owner of a boat from 8 to 15 metres long. His age tends to decrease. If he used to be either a sailor or a motor boat owner, he is now more of a practitioner than an owner. He is also increasingly impatient, which makes the stock necessary, an asset for Intermer, which has historically been built through storage. The yachtsman is also physically connected to his pontoon neighbour and his shop.
What are Intermer's plans for 2018?
Thierry Gannat on the stand Accastillage Diffusion at Nautic 2017 We will continue the development of the network with a quantitative and qualitative aspect. The quantitative aspect involves improving the mesh size with reopenings in Gruissan, Annecy, La Trinité sur mer and Catalonia. We also want to develop Italy for which we have hired a Mediterranean-Italy network manager. In terms of quality, we help stores to renovate and offer merchandising assistance to optimize the organization of the store.
We are continuing our internet efforts with an online platform that will allow delivery in relay points at the beginning of 2018. Our internet policy will remain respectful of the stores by promoting and rewarding them properly.