A disaster to turn into an opportunity
Guillaume Arnauld of the Lions, visited Saint-Martin as part of the assessment mission launched by the Fédération des Industries Nautiques to assess the situation of the sector after Cyclone Irma. If the compilation of data on damage and urgent needs has been the priority, it has not been satisfied with the short term and has begun a process on the establishment of a deconstruction of recreational boats. "There are going to be wrecks to deal with quickly, but setting up a real local deconstruction sector on a Caribbean arc scale is an issue that goes beyond post-cyclone management. It would also make it possible to deal with vessels leaving the fleet locally. We have therefore begun an audit on the number of vessels to be handled outside the cyclonic context."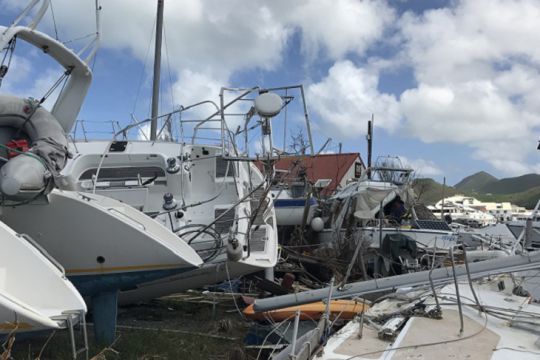 List operators and accompany them
During his mission, Guillaume Arnauld of the Lions contacted all the approved waste treatment sites able to deconstruct ships in Saint-Martin, but also in Guadeloupe and Martinique. He could thus note that Verde, in charge of waste management in Saint-Martin, has equipped itself with a shredder allowing it to process large pieces from ships.
Once identified, the companies will benefit from support from APER, an organisation launched by FIN with the aim of becoming the eco-organisation in charge of the REP deconstruction sector in the nautical sector. They will be advised on the standards to be respected, the necessary equipment and may become approved by the APER. They will then benefit from the APER network, like the tentaine of approved sites in metropolitan France. The association currently redirects between 3 and 10 deconstruction requests daily to its approved network.
To quote a popular proverb, you might think that"something bad is good!" We can hope that cyclone Irma will give birth to a virtuous ecological approach in the Caribbean nautical industry.