The sharing, the exchange, the use to several of the same good... is today in the air of the time. The Internet has opened up a whole host of horizons to these new ways of consuming. The Sharenders.com application enters this domain.
Assuming that a boat is used very little, why not share it with several owners. This notion exists, it is called co-ownership. But often the difficulty is finding other co-owners who have the same expectations as us.
"I would like to buy a 35 foot sailboat, for cruising, which I would like to base in South Brittany and which I will use about 1 month per year". Here is the information you can find on Sharenders.com.
Then, like Tinder, you walk through the offers and you can keep (postpone), like (liker) or reject (refuse) a card by dragging it to the left or right on your mobile. If you like a profile and the other person accepts your request - there's a match! - the application connects you to start a discussion. You will be able to exchange on the Chat' and study if your projects and your habits are compatible.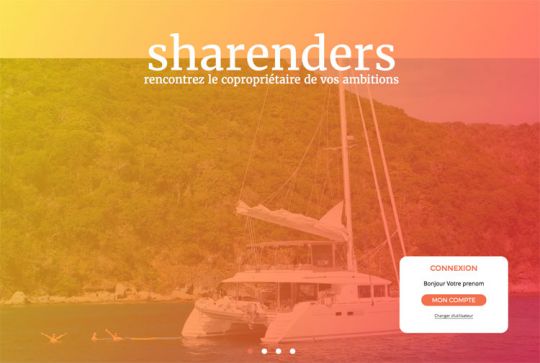 Careful, Sharenders isn't selling anything! It just serves as a contact and assists you for the first exchanges. The establishment of co-ownership with financial and operational elements is done between stakeholders, outside sharenders.com.
This application works for boats, but also for all goods that are expensive and used only a few days a year: holiday homes, motorhomes, vintage cars, horses, gliders or planes..