A concession from the Brittany region
Since 2007, the Brittany region has been the managing authority for the port facilities of Saint-Malo, consisting of the ferry terminal, the commercial port, the fishing port and the two marinas. The Bas-Sablons marina, located in Saint-Servan, is operated under municipal control. It has direct access to the sea, via a weir, and offers 1,200 berths on pontoons, around a hundred on land and 70 places for visitors. The waiting list of 1,300 boaters means that the waiting time is around 15 years.
Infrastructure problems
In its report, the regional audit chamber of Brittany points out several malfunctions. It cites in particular the management of infrastructures and services. The absence of dredging for 40 years has forced a large number of boats to run aground partly in the mud. The wifi network does not give satisfaction and the pontoons are very old.
Mismanagement of personnel
In these terms, the audit institution emphasises the mismanagement of staff. "The administrative service of the port does not benefit from a sufficient number of staff. Following the departure of permanent staff, the systematic recourse to contract staff does not provide the necessary skills. The absence of written procedures, the lack of reliable information and the shortcomings in internal control explain the information system failures noted. They are illustrated in particular by partial figures and the excessive production of administrative certificates with a view to obtaining cancellations or reductions in revenue claims'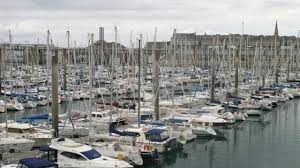 Unjustified payments to the town hall
The regional audit chamber points out that the port of Bas Sablons pays, partly unjustifiably, an amount of about 280,000 euros to the main budget of the municipality of Saint-Malo, which corresponds to about 10% of turnover or seven full-time equivalents, far from the services provided by the city.
Lack of will to develop
The report highlights the lack of commitment by the municipality to the development of the Bas Sablons nautical centre, which is difficult to access from the town. The limited reception hours and the lack of shops are also pointed out.
4 recommendations
The regional audit chamber of Brittany makes 4 recommendations to the city of Saint Malo :
Provide the port with a trained and supervised administrative service.
Enter a provision for human resources litigation.
Ensure the monitoring of the port's movable and immovable assets.
Review the calculation of general administration fees.
A process is also under way to mutualise the management of the port of Bas Sablons with that of Port Vauban at the end of the concessions.