More new boats and fewer opportunities
The sale of new boats shows a good increase in France over the 2016/17 season. It grew by 12% in the sailboat market and 13% in the motorboat market, for a total of nearly 10,000 boats sold. On the other hand, the market for used yachts is stabilising, with a slight decline. Over the period 2016/17, there were 10,267 sailboat transactions, down 3.3% and 46,394 motorboat disposals, down 0.6%.
Worldwide, the market is growing by 3 to 5% according to the Fédération des Industries Nautiques, driven by North America and Europe.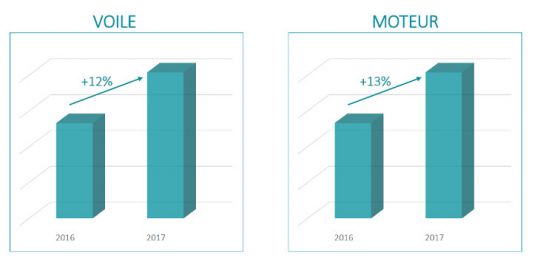 A half-toned summer season
For professionals in the yachting service and port nights, summer 2017 is presented as"correct". The slightest bad weather seems to shower the desires of boaters to sail, generating a strong variability.
On the other hand, if it is also sensitive to the weather, water sports and beach sports are on the rise. It even faces a shortage of instructors in some disciplines.
No more riverboats and cabin rentals
In the boat rental market, professionals are seeing an increase in cabin rentals in the Mediterranean. Although private boat rental sites are enjoying a successful summer, the lack of official figures makes analysis difficult, explains FIN. Nevertheless, it seems that the rental of small units, especially for short periods, is shifting from professional rental companies to collaborative platforms.
River rental is exploding, particularly in Brittany.
Boat shows
The Fédération des Industries Nautiques recalled its action plan for the next 3 years for the Nautic de Paris already detailed in these columns. It announced its partnership with the Union Sport & Cycle, which brings together outdoor leisure professionals, including beach sports, and the French Handball and Tennis federations. Each of these structures will come to the Nautic to promote and demonstrate their activities.
The Grand Pavois has announced the opening of the Water Leisure area, welcoming swimming pools and spa, a novelty to be compared to the"Water Leisure" exhibition in Lyon, for which Grand Pavois Organisation is the coordinator.