An internal study
The Hey Captain online boat rental platform has released its statistics for the period July 1, 2016 to June 30, 2017. This study covers 58,876 rentals in the network of 250 professional rental companies in France, Italy and Spain. Although limited to a single platform, primarily focused on powerboats, these figures indicate instructive trends in the boating rental industry.
Last minute rentals
38% of boat bookings take place within 24 hours of sailing, while only 11% are made more than 2 weeks before the actual charter. The last minute rental trend is increasing compared to the 2016 study.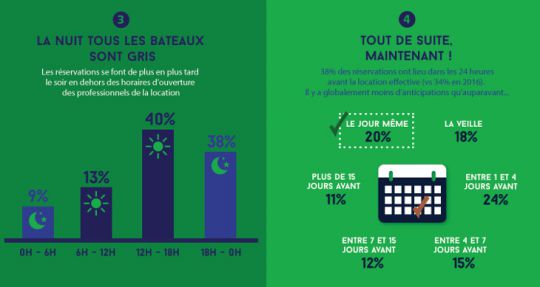 The share of online bookings rose by 7% to 39%. Of these, 36% are made on a smartphone. However, physical telephone communication remains the preferred means of booking for leisure tenants.
Surprising figure, Monday is the day with the most reservations. The return from the weekend obviously gives you the desire to sail.
A majority of youth licences
Even if the trend is towards feminisation, the typical tenant is a man, at 76%. It is young, 33% being less than 30 years old and 79% less than 45 years old. 57% of the tenants have obtained their permit less than 5 years ago. Do holders over 5 years old no longer sail or have they bought a boat? The question deserves to be explored for the boating industry.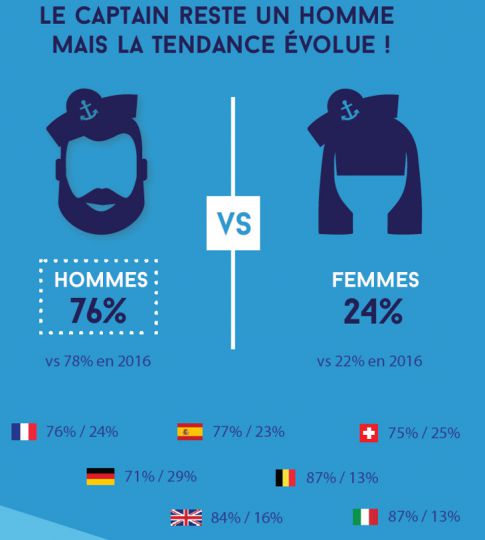 The semi-rigid, queen boat
The average rental time is slightly more than 5 days for habitable boats, sailboats and launches. Motorboats are rented for an average of 1.4 days, while jet ski renters leave for about 47 minutes.
Based on the number of rentals, semi-rigid boats are in first place, with 28%, followed by open hulls with 22%. Stars, beach gear, light sails and sailing boats make up the remaining 50%. It should be noted that this classification does not take into account the rental period.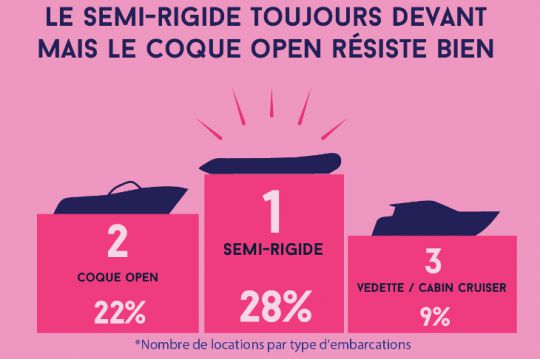 While the two French leaders Bénéteau and Jeanneau are at the top of the leased boat brands, the units mainly measure between 5 and 7 metres.