Meeting financing needs
Like all French sailing clubs, the Centre Nautique de Crozon-Morgat (CNCM) had to cope with the decrease in public funds allocated to associations. As Olivier Latin, head of the yachting division, explains, the structure has had to evolve. "We had to move to a more entrepreneurial model. While remaining an association, new sources of income had to be found to maintain jobs." The CNCM currently employs 19 full-time equivalents year-round and up to 50 people during the season.
The CNCM has a strong sailing school tradition. In its Postofort holiday centre, it has long hosted sailing courses and also offers courses for summer visitors. However, this model of long-term commitment is diminishing. You have to make it evolve according to the person in charge of the yachting pole. "We need to move from school mode to coaching mode, through differentiated tutoring."
With the opening of its Point Location - Spot Nautique, the CNCM was able to strengthen its activities. It became the first turnover of the FFVoile rental network. The Rental Point also makes it possible to diversify the public, attracting 80% adults for 20% children, proportions opposite to those of the training courses.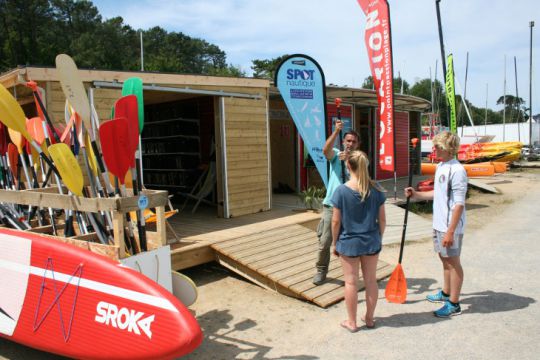 Competitions as headliners
The CNCM invests every year to host national and international competitions. Thanks to a body of water protected from the sea and without current, the club seduces many classes of dinghies. These events are a way to reach French and foreign sailing enthusiasts, explains Olivier Latin. "These are beautiful communication media. The objective is for the Europeans who come for the National 420 to return later." The CNCM, which organizes the National 420 and the Laser International in 2017, is officially candidate for the organization of the European Optimist Championship IODA 2019.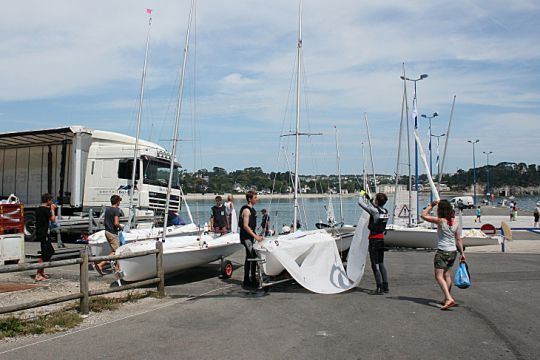 Bringing the region to life
The creation of events in Crozon-Morgat is part of territorial development. Partnerships have been established between the CNCM and the Crozon-Morgat, Nautisme en Bretagne and Finistère 360 Tourist Office. Relayed on the social networks, which benefit from a dedicated manager within the club, they attract sailing enthusiasts, but also simple tourists wishing to devote themselves to water sports. Through rental and regattas, it is the practice of water sports in general that the CNCM wants to develop.