Richard Forest, can you explain how you came to create SEAir?
To introduce myself, I am an engineer by training. I have set up several companies, the largest of which was launched 10 years ago and still exists today with 200 employees. It is a consulting company in computer systems and software.
I approached sailing when my company sponsored a sailboat in the Route du Rhum. Then one day someone calls me and asks,"I need 1.5 million to fly a boat". I was very interested in the second part of the sentence Because the problem was not financial, but technical. SEAir was born that way.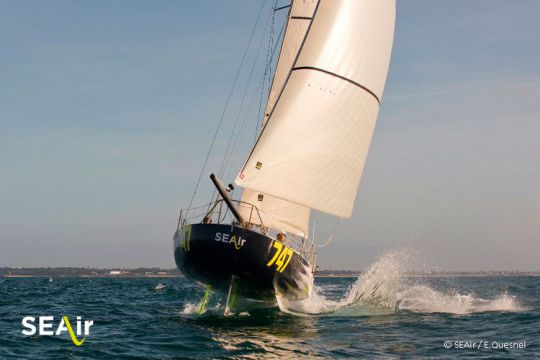 Explain SEAir's offer to us
It is true that seen from the outside, the message is not always well perceived by people. We modify a Mini 6.50 to make it fly, but we don't want to make it run in the Class ! And we also believe in the future of flying motor boats..
Foil boats are an invention that dates back more than 100 years. But current developments lead us to believe that there is another train leaving, and we must be in the lead.
SEAir's idea is to be tomorrow's equipment supplier for the flight function. Our aim is not to steal work from architects or building sites, but to offer them ready-to-use solutions.
I would like boat builders, who today offer a 115 or 150 hp engine, tomorrow to offer the flight option.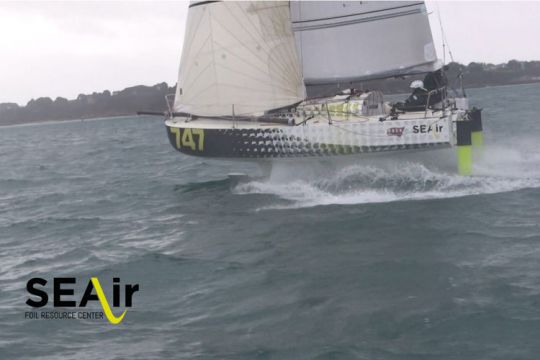 You're not just gonna sell foils?
No, we will propose the global chain: the sensors, the flight mode controls, the servo, but also the foil. That's why I talk about"flight function" and not foils.
Is your sailboat flying independently today?
The Mini 6.50 allowed us to make the SEAir brand known and to progress in the knowledge of flight with a foil box with 4 degrees of freedom. At the first tests, we stole a few seconds. Today, we fly for several minutes. At the end of summer 2017, our goal is to be able to fly for 15 minutes... With the goal of total and autonomous enslavement on which we are working hard.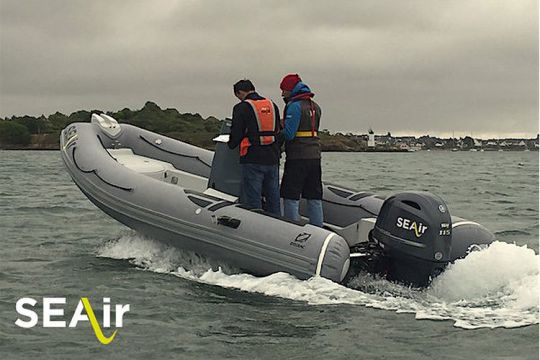 You tell us you have a big news story coming in the next few days. What is it about?
When you think of everything that floats, 90% is driven by fossil energy and 10% by wind. With the Mini, we communicate a lot on the wind because he pulled the foil and it makes you dream, but the business will come from the motor boat.
I can't tell you much more, because we are in the middle of filing a patent, but you might be surprised very soon..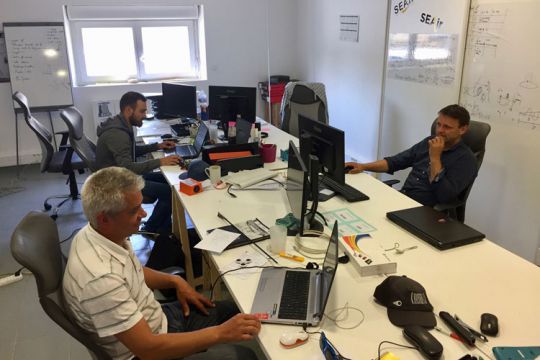 One year after its creation, where is the development of SEAir?
Today 11 people work at SEAir with a team of"thinkers" including architect David Raison and 3 people in"production" in the workshop. We're working on three big projects:
The most visible is the Mini 747 with its round nose which for the moment has only one foil on port.
The second project we will unveil these days: the production motor boat.
And finally 3 e project, the manufacture of a foil kit for the kite with a fixed base and the possibility to shaper over different foil shapes with a simple 3D printer. This in order to lower the cost and make the foil accessible to the greatest number.