Innovations on the shores of Lake Iseo
In 1967, Giovanni Besenzoni founded his nautical equipment company in Sarnico, on the shores of Lake Iseo in northern Italy. In 1973, Besenzoni innovated by offering the first rear platform with a ladder. Ten years later, Besenzoni launched its flagship product, the hydraulic gangway for access to the boat, with remote control. It marks a great change for the market, especially in the Mediterranean where boats are generally moored on docks.
In parallel with the gangways, Besenzoni is developing several equipment for pleasure boating and professional marine, ranging from the tender crane to the helmsman's seat, including electric sliding doors, hydraulic bathing ladders or accommodation ladders...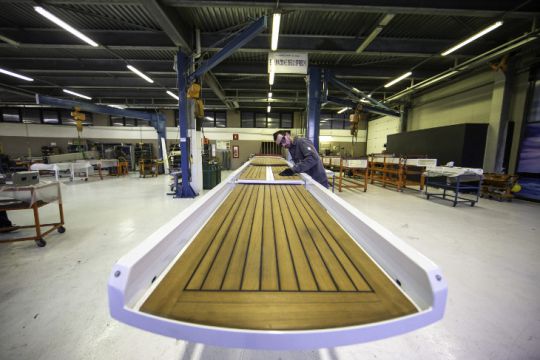 An international company
During these 50 years, the SME of Northern Italy has grown to become an international company. Its 170 products are distributed through 187 sales outlets in 50 countries. 164 workshops provide local technical service under the supervision of the head office in Italy.
Production is divided into 7 categories: gangways, launching and tender recovery, seats, bathing ladders, table legs, custom projects and carbon range. Besenzoni has filed 60 innovation patents.
Maintaining craftsmanship
Giorgio Besenzoni, the founder's son, now CEO of Besenzoni, is the guarantor of the company's continuity and is committed to the future.
"50 years is an exceptional achievement of which we are proud and we must first of all thank our employees for having come this far. Our company's strength lies in our teams' ability to solve the increasingly complex problems we face. Besenzoni would be nothing without the great talent of our craftsmen, alongside the production tools that we have put in place over the years, which are at the forefront of today's industrial world. In the last 50 years, and still today, we have faced talented competitors. Our product range has expanded considerably and for this reason, in order to keep up with new orders, we must maintain a constant qualification and training of our employees