Slight increase in new boat sales
The figures delivered by Bretagne Info Nautisme cover the period from September 2016 to the end of April 2017 and are based on registrations. Compared to the same period in 2015-16, the sale of new boats is up 2% in Brittany, with 867 new yachts, or 224 sailboats and 643 motor boats. The trend is lower than the national trend, up 7% with 3573 registrations. Second French region after the PACA-Corsica zone, it should be noted that these markets are growing less than the French average.
The increase in sales is more marked on large units over 10 metres, up 19% in Brittany.
If the evolution month by month is substantially equivalent to the 2015-2016 season, Bretagne Info Nautisme wonders about the dynamics in progress while April is marked by a sharp drop.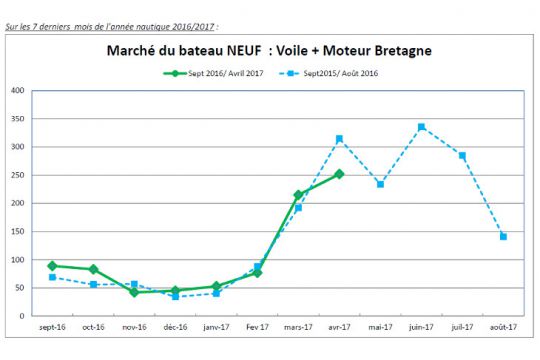 Stable second-hand market
Bretagne Info Nautisme bases its survey on the second-hand market on the figures of reported boat transactions. Compared to the same period last year, sales of second-hand pleasure boats in Brittany between September 2016 and April 2017 are stable. They stood at 8733 units sold of which 2612 sailboats and 6121 motor boats, i.e. 0% evolution, a little better than the -2% at national level. Here again, the two main markets, Brittany and the PACA-Corsica zone, performed the least well. Only the latter posted an overall decline of -15%, with a strong impact on national results.
In particular, there was a strong increase in transactions on vessels over 40 years old, up 17% in Brittany.
The organizers of the survey express the same concern about the trend in April as for the new home market.