For this 32 e edition, the 2017 edition of the Blue Flag awards devotes 390 beaches (against 400 in 2016) and 102 marinas (against 98 in 2016), spread over 173 municipalities.
The Provence-Alpes-Côte d'Azur region is the first Pavillon Bleu region with 58 winners, followed closely by the Occitanie region with 53 winners. The Serre-Ponçon lake (2,800 hectares in area and 90 kilometres of shoreline), comfortably situated between Alpes-de-Haute-Provence and Hautes-Alpes, is the largest hydroelectric dam in France (the second largest in Europe). And he also benefits from the label since 9 beaches have been labelled on 7 communes.

The trend concerning the continental communes is confirmed, there are 59 this year and represent nearly 1/3 of the labelled communes. This year 14 new municipalities and 8 new ports have been added to the list:
The new joint candidates
Saint-Vincent-les-Forts (04),
Mandelieu-La-Napoule (06),
Ajaccio (2A),
Arnay-Le-Duc (21),
Vias (34),
Iffendic (35),
Eguzon-Chantôme (36),
Seignosse (40),
Saint-Philbert-de-Grand-Lieu (44),
Coudeville-sur-Mer (50),
Saint-Pair-sur-Mer (50),
Fécamp (76),
Saint-Jouin-Bruneval (76),
Saint-Valéry-en-Caux (76)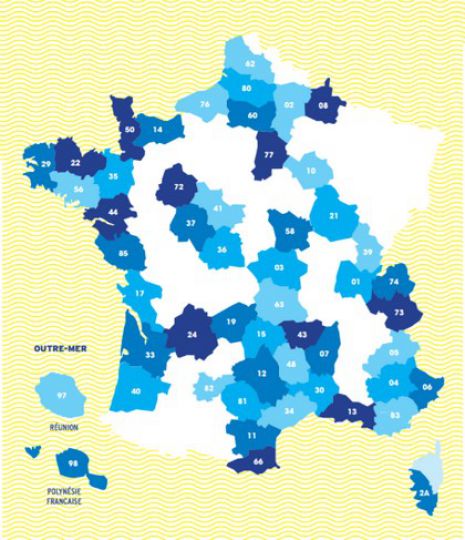 The new port candidates
Cap d'Ail marina (06),
Port Départemental de Cassis GTC (13),
Société Nautique de Marseille (13),
Port de Gâvres (56),
Port de Guidel (56),
Port of Lorient Centre (56),
Kernével marina (56),
Port-Louis (56)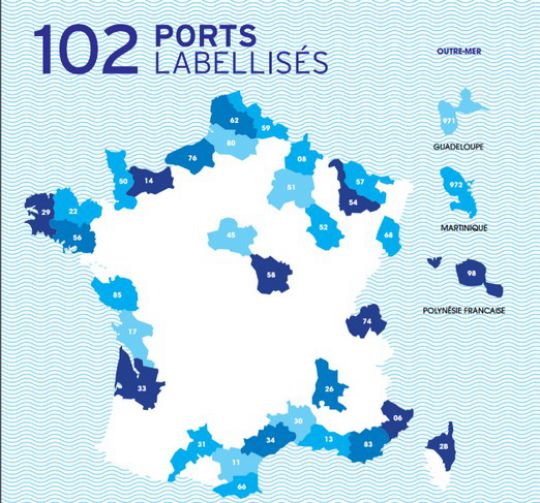 What does the Blue Flag label guarantee?
"According to 8 out of 10 French people, the Blue Flag is a guarantee of clean beaches and water quality. 81% of French people could choose their holiday location according to the Blue Flag These data come from a BVA survey for the Blue Flag, conducted by Internet from August 22 to 23, 2016.
The municipalities that obtain the Blue Flag have fulfilled two types of criteria: the essential criteria (minimum required to obtain the Blue Flag) and the guiding criteria (which may eventually become imperative).
The Blue Flag criteria are grouped into 4 main families
- criteria related to environmental education,
- criteria related to water management,
- criteria related to waste management,
- criteria related to the general environment.