A NMEA 2000 pre-certification offer
Until now, boating companies that wanted to obtain the essential NMEA 2000 certificate for their electronic equipment had to send it to the United States. Each test was charged $800, plus the complication and transportation costs. In the event of any modification or adjustment necessary for the development of the product, the operation had to be repeated, adding to the invoice each time.
It is now possible to carry out a pre-certification in France with the MobBI platform of the University of Rennes 1, equipped with the official NMEA software, it carries out all the tests to ensure that the electronic equipment complies with the NMEA 2000 standards in force in the nautical industry, before being sent to the United States.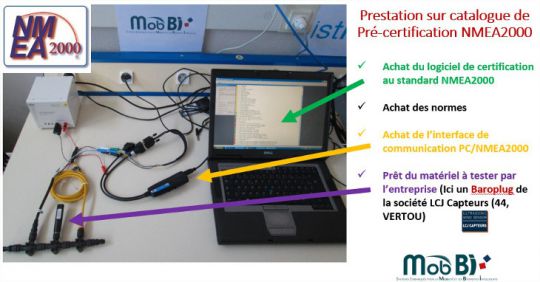 A more economical solution
While it was generally necessary to send the material several times to the United States, paying for a test each time, MobBI's offer is much more economical. It allows local pre-certification at a lower cost. Only a file and the results of the latest tests are sent to the USA for final certification.
A support for VSE/SMEs
The MobBI technology platform aims to support companies, particularly very small and medium-sized enterprises, in their technical projects related to embedded technologies. Expensive equipment, often used intermittently, and academic knowledge are thus made available to the local economy. MobBI is partially financed by local authorities. The remaining funds come from studies conducted for the partners.
In response to requests from Breton marine electronics specialists, it seemed appropriate to acquire the NMEA software and equipment. The investment, including the purchase of standards, represents ?6,000. The objective is to carry out about ten tests per year to make the equipment profitable. There is no doubt that many start-ups in the French boating industry will be interested.