A green skipper
Ka´ros was first founded to manage the technical and financial aspects of Roland Jourdain's career as a professional skipper. Aware of the ecological stakes, he wanted to work to make his sport more respectful of the environment. After a complete analysis of the life cycle of the boats, the materials appeared to him as the crucial element. Ka´ros has thus become a design office specialized in R&D on biocomposite materials.
The Gwalaz trimaran as 1st showcase
Contacted for the Lost in The Swell project, Ka´ros worked with the Tricat shipyard to produce a trimaran in flax fibres. The boat, which was used as a support for a report on surfing, provided a first proof of the qualities of linen (Read Lost in the swell and the crocodiles of the Solomon Islands ).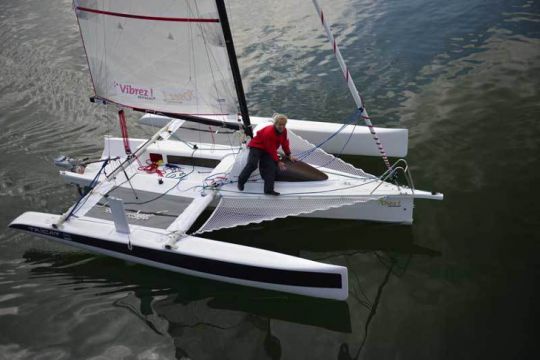 Diversification
The know-how acquired in boating interests other industries. When we met them on the JEC, Ka´ros was listening to other sectors, where regulatory changes are forcing materials to evolve. The techniques, validated on the boats, are transposable to the industry. Ka´ros is currently working on large biocomposite panels, fully recyclable and biosourced, to replace cardboard in point-of-sale advertising.
New developments
The design office is currently working with linen weavers on new fabrics whose weave would improve mechanical performance. He is also interested in the orientation of flax fibres for injection.
Like many professionals met on the JEC, Ka´ros is also working on the use of thermoplastic resins, reinforced with linen, to replace thermosetting solutions, more commonly used in boating. Of course, these will be biosourced. Studies are underway with the University of South Brittany and Ifremer. Entirely biodegradable, the new material, with a life of 40 days in water, could be used for temporary buoys.
Beyond the current developments, the members of the design office admit a beautiful long-term objective, a foiler all in linen...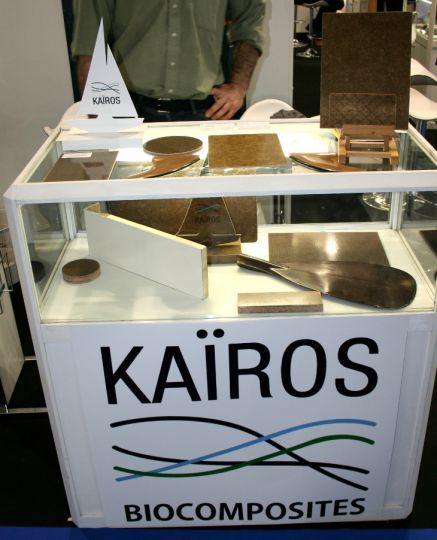 Industrial approach
All Ka´ros projects are conducted with an industrial application in mind. The implementation of the products is well thought out and the economic aspect is taken into account. And this one is moving in the right direction. The office regularly carries out technical and economic comparisons between flax and fibreglass for shipyards for the production of their boats.
"In 2013, Gwalaz cost 15% more in flax fibre than in glass fibre. Today, the difference has already decreased," says Erwan Grossmann, head of the design office. A conclusion full of hope.