140 million investment
The Düsseldorf trade fair centre in Germany, which hosts the Boot Düsseldorf boat show, a European reference, each year in January, is launching major modernisation works. Messe Düsseldorf is investing 140 million euros in the operation. The transformations will concern Hall 1 and the South entrance. Scheduled to begin in May 2017, the work is scheduled for completion in the summer of 2019. They form part of an overall investment plan of ?636 million until 2030.
An opening on the Rhine
The new 7800 m² south entrance offers a magnificent view of the Rhine and the city of Düsseldorf. In particular, it will have a translucent roof 20 metres high. More than 2000 m² will be dedicated to the cash desks, changing rooms and reception services. There will be 300 underground parking spaces, bus stops and taxi ranks. "She will be a powerful architectural icon, very visible in the exhibition centre," says Messe Düsseldorf.
A new hall 1
The existing halls 1 and 2 of the exhibition centre will be demolished. A new space, 158 metres long and 77 metres wide, will offer 12,000 m2 of exhibition space. The new hall, equivalent to Hall 8a and 8b, will be located directly next to the south entrance.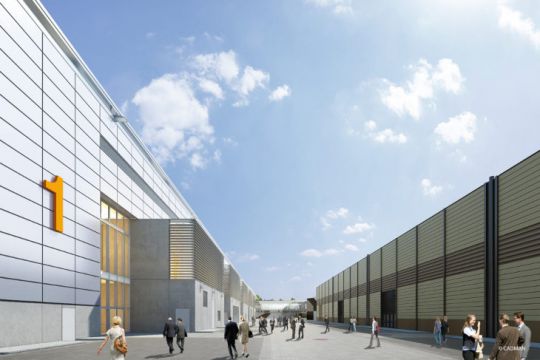 Six conference rooms will be available on the first floor, each accommodating up to 198 people. The stands will be supplied with electricity from the floor. Pedestrians will be able to access the new Hall 1 via footbridges from the south entrance or Halls 3 and 4.