Navigate with the joystick
We know joystick in video games, less in sailing. While some manufacturers offer controls of this type for engine manoeuvres, other applications in the boating industry are rare. Bernt Weber and Cédric Boudin, the founders of the Breton start-up Splashelec, now offer a solution for sailing with two joysticks.
A first joystick ensures the steering by transmitting the instructions to the bar. The second joystick allows the sails to be adjusted via a reversible electric winch developed by Splashelec which allows the sails to be trimmed and shocked. All controls are proportional for greater sensitivity and precision in adjustment. Bernt Weber has built on its past as an autopilot specialist to design reliable, marinated mechanical and electronic parts.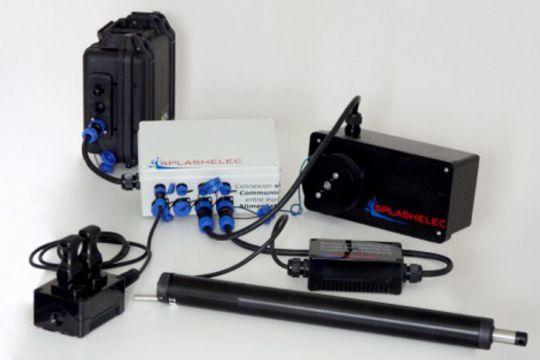 Splashelec control system
From hand-sailing to the general public
Initially designed to allow disabled people to enjoy sailing, the Splashelec system could attract new audiences. As the presentations went on, the company's managers identified new markets. Young and old people who lack strength can be assisted by the Splashelec device. The playful aspect, close to video games intimidates less an audience of able-bodied adults who are afraid of the technicality of sailing. Cédric Boudin recalls that"only 3% of people on holiday by the sea practice water sports."
Splashelec concentrates its commercial efforts towards sailing clubs and the handisport. Already 8 clubs are equipped. Mainly installed by modifying existing boats, the Splashelec joystick control is offered as an option by the ACB shipyard in St Pol de Léon. Other sites could do the same.
A mini IMOCA with joystick
In order to seduce the neophyte clientele, Splashelec has launched the construction of a 4 m IMOCA model, equipped with joysticks. Available in the spring, it should promote the product to the general public.
Multiple perspectives
There are many applications for joystick control. Splashelec has been approached by an electric boat builder for rowing trainers. Their control system, coupled with a speed regulator, would make it easy to track rowers.
UAV development is another avenue for this start-up, firmly anchored in its century.