Born from a concrete need
Franck Bottin and Hervé Mauric do not come from sailing. Specialized in intrusion alarm and access control, it was a need expressed by the Cape Breton Marina that led the two partners to create Blue Pass. Put in contact by a common partner, the harbourmaster's office explained its expectations in terms of port berth management. This is how they invented their innovative badge solution, based on their know-how in security and proven technologies by major industrial groups.
Antennas to control flows
The principle is relatively simple. The boat is equipped with a transmitter badge. Two antennas A and B are positioned at the port entrance. When the boat passes in direction A then B, the system is informed that it is leaving the port. If it touches B before A, the boat is signalled as returning to port.
Real-time seat knowledge
By equipping all the boats of a marina with badges, the harbour master can know in real time the available places (except visitors not equipped). The chore of scoring is at best suppressed, or at worst greatly simplified.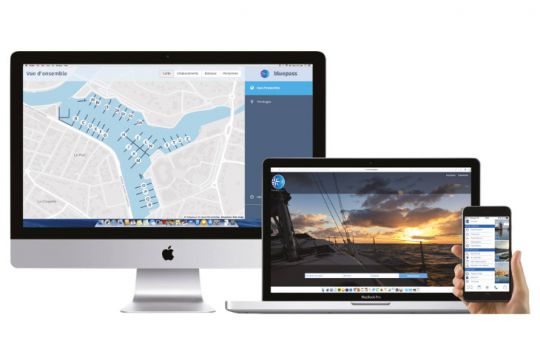 Blue Pass Interfaces
Network and reservation
Thanks to a customizable software platform, developed by Blue Pass, users, boaters and port professionals can have access to information on available berths. Once the number of ports equipped is sufficient, the yachtsman will be able to book the wharves. The knowledge of availability, coupled with the tide and boat speed information integrated in the software, will provide an aid to cruise navigation planning.
For their part, the ports will be able to optimise their filling.
Security
The yachtsman can define a maximum return time for each outing. In case of overtaking, an automatic alert is triggered. Beyond the management tool, Blue Pass is transformed into safety equipment.
Operational from 2017
Winner of an innovation award in November 2015, Blue Pass developed the Beta version in Cape Breton. The company is now supported by the Public Investment Bank. A test on the functioning of the badges according to the position on the boat will take place in January 2017. Deployment in ports can begin as soon as it is validated, in spring 2017. 4 ports are already waiting for equipment for the next season and about fifty showed interest during the Nautic 2016.
The tariffs, linked to volume, are not yet public.