A 2016 year carried by the Vendée Globe
All Purpose is making a great year 2016 for François Lamiot, one of the sailmaker's managers, based in Morbihan. 2016 turnover is estimated to have increased by 12% compared to 2015, when it reached 1,080,000 euros. The company's 9 employees, managed by 4 partners, were particularly well occupied this year by the three IMOCA monohulls by Thomas Ruyant, Tanguy de Lamotte and Stéphane Le Diraison, entered in the Vendée Globe 2016.
The race: Trilam reliability and image
All Purpose and its GIE, composed of 7 sailmakers spread over the French coast and AP Sellerie, base their development on the Trilam, a material specially designed for them. For François Lamiot,"Thanks to the Trilam, All Purpose has reached a technological level equivalent to the competition Offshore racing, which accounts for 50% of All Purpose's business, gives the material greater visibility and credibility among amateur sailors and sailors. After the Vendée Globe, this year the Mini Transat should be the sailmaker's 2017 showcase.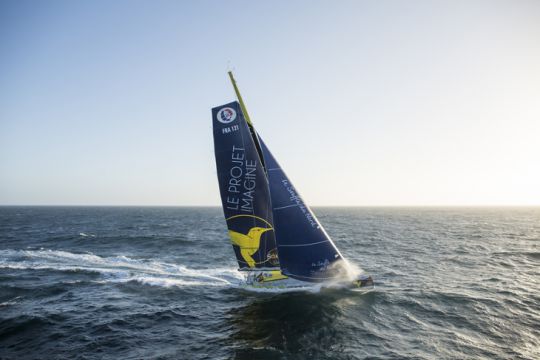 A market favourable to the aftermarket
In a context of economic crisis, while the second-hand yacht market has fallen sharply, boaters prefer to invest in a new set of sails rather than in a new boat. The aftermarket, which represents 80% of All Purpose's yachting activity, thus benefits from a favourable context that boosts the sailmaking activity.
Development of the saddlery
The upholstery business, led by AP Sellerie, also posted good growth of over 10%. Demand is strong and All Purpose intends to further develop this activity in the coming years.
The sailmaker will obviously be present on the Nautic to meet its loyal customers and find new ones.