In addition to selling sails to shipyards, boaters and ocean racers, North Sails also sells studies. Can you tell us what they consist of?
Yann Andrillon: Two main business segments can be distinguished.
In the first case, the North Sails design office provides performance or structural effort indications to designers in the preliminary design phase. The customer can be a naval architecture firm that wants an aerodynamic study for its VPP calculation or a mast manufacturer who wants to know the structural loading on the rigging to optimize its dimensioning. This allows them to direct development in the right direction from the beginning.
In a second case, we intervene in a more advanced phase of the project, the manufacturing studies being launched. For example, it may be necessary to study the loads in the sail plan to determine the correct horn length or if it is necessary to increase the surface area.
How is the research activity organised within the North Sails group?
Yann Andrillon : North Sails service design is scattered throughout the various sailmaking locations around the world. Each team deals with the topics proposed locally but we exchange regularly and each has its speciality on which it is consulted if necessary. Our expertise in aerodynamic design is maintained through internal R&D actions, but also the secondment of full-time personnel for the America's Cup teams. It is a good development engine for our calculation codes.
What tools do you use?
Yann Andrillon : We mainly use the calculation solution developed in-house, the North Design Suite, composed of :
DESMAN? for CAD, rigging and sail modelling
SPRIAL? to create the 3D"mould" of the sail
3D LAYOUT? to define the sail structure
FLOW?, a tool for potential analysis of flows on the mast and sails
MEMBRAIN? for finite element structural analysis
SAIL SCAN? a tool for comparing real sail shapes with theoretical shapes from Membrain
NORTH VPP? for performance prediction
HULL VPP? for calculation of hydrodynamic forces on appendages
VIRTUAL WIND TUNNEL?, a digital wind tunnel
RACE MODEL?, to analyse the influence of sails and mast on the rating and vice versa
SPP?, for drawing and setting comparison and performance analysis in the absence of VPP
ROUTER, for performance prediction on a given course by using historical weather data
HULL DATA?, CFD module applied to hull and appendages to power North VPP
SAIL COMPARE?, to compare Membrain results
SAILECT?, to create sail use charters
We also use OpenFoam CFD software.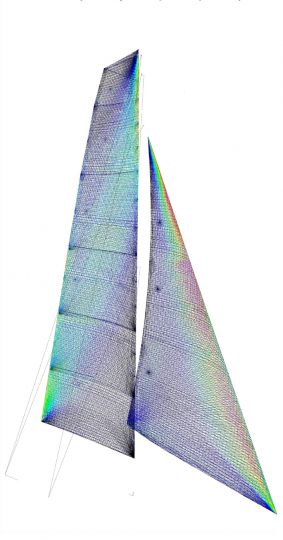 Do you ever work outside the boating industry?
Yann Andrillon: We sometimes have some"exotic" projects like commercial sailing ships or other applications outside the maritime world. This represents about 10% of our business.
Who are the main customers of the North Sails design office?
Yann Andrillon: We work mainly for ocean racing, in which aerodynamic studies have become systematic. IMOCA classes, Volvo Ocean Race, big multihulls and Maxi are big customers. If it remains very limited, it also happens that we work for small sailing ships running in IRC.
How much activity and what budget do the studies represent for North Sails?
Yann Andrillon: Today approximately 60% of the activity of the North Sails design office is invoiced to external customers (teams, naval architects, mast manufacturers, etc.). The remaining 40% is for internal needs. In these services, the performance calculation portion represents 5 €0%, the study of structural expenses completes the activity. The budget for studies is extremely variable because it depends on the number of operational cases studied. It can start at 5 € k? but go much higher.
How do you see the future of this activity?
Yann Andrillon : It is always difficult to sell"virtual" like studies, but investment in aerodynamic calculations has now become part of ocean racing. The set-up time for the boats is getting shorter and shorter and the optimisation work upstream saves time by immediately making the right sails. Aerodynamic studies have become essential.