A simple procedure
IDBoats, founded by Jean-Charles Meilland and Mehdi Movassaghi in 2015, is based in Poland and employs 5 people. It has developed an online digital tool allowing dealers to quote boats on their computer or tablet quickly and securely, with a simple internet connection. Simply log in and select the product brand on the home page.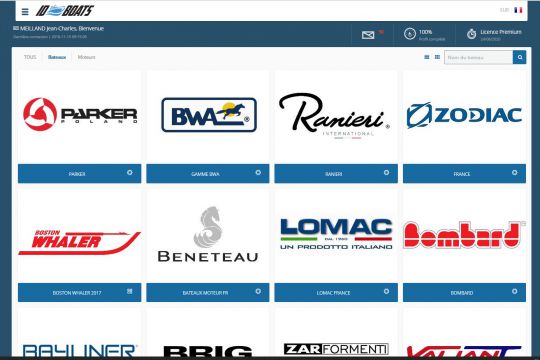 Home page
He then chooses the model, the options and applies any discounts. The electronic estimate is established in a few minutes.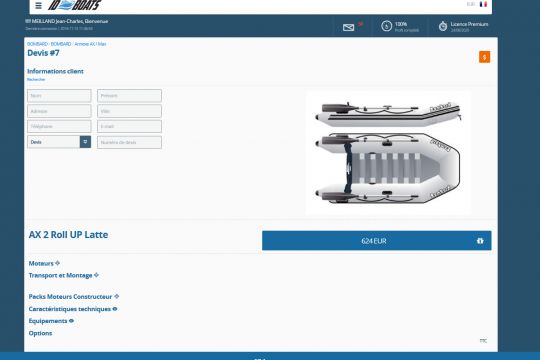 Customer data
Choice of options
Catalogue management
One of the key advantages of IDBoats is the possibility for customer brands to manage their catalogues directly in the database. This means that it is always up to date. The yard can also create specific catalogues, of limited duration, for events such as boat shows and give access only to the agents present.
The management of the catalogue by the worksite avoids the risk of the concessionaire making an input error. For multi-card dealers, the tool allows multi-catalogue management in the same interface. If one of the yards represented is not an IDBoats customer, the seller can supply the catalogue to the latter who will add it to his database.
A dealer can also create its own catalog for services performed on its own account, such as engine installation or additional equipment options.
Viewing Margins
The sales representative can view his margin at any time. IDBoats thus makes it easier to manage discounts.
Statistical tool
The IDBoats platform collects information. These are sent en bloc to customer sites, to preserve the confidentiality of each reseller's policies. It is a valuable analytical tool on the transformation rate of estimates, influencing production management and pricing policy.
Rapid development
IDBoats announces around sixty catalogues available for the Nautic de Paris 2016. Bombard, Boston Whaler, BWA, Mercury and Zodiac have already subscribed and will provide their networks with the free version. 1800 dealers must be equipped before the end of 2016.
The announced prices are 2000 € of initial investment then 600 €/year for the building sites. For dealers wishing to add additional catalogues, it will cost 30 €/month for the 1st catalogue, 20 €/month for the 2nd and 10 €/month for the 3rd, with a maximum of 60?/month.