A new range to reach the American market
Following the success of its last two superyachts of 46 and 54 m, revealed earlier in 2016, and belonging to the"Fast" line, Baglietto decided to diversify into the yacht market. The Italian yard has introduced a new range of yachts, called"V-Line", which will enable it to reach a larger market share. To create this new line, the yard has based itself on numerous customer studies and takes into account certain owner requirements and wishes.
This new range will consist of several superyachts from 40 to 55 m in length. Interestingly, the line was not developed by a single designer, but by the individual work of three Italian designers, each working on a model: Francesco Paszkowski Design, Hot Lab and Santa Maria Magnolfi Design.
However, the three designers worked together to define common characteristics of the boats, so that they were aesthetically linked in a range. Thus, all will have contemporary lines and a vertical bow. The three designers received a brief to create an individual identity for each yacht, inspired by the history of the shipyard.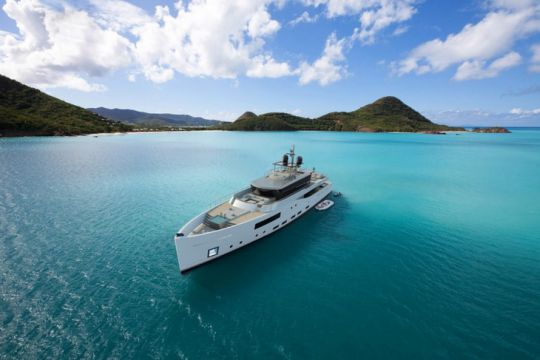 With a wider range, the Italian yard hopes to reach the American market and increase its market share throughout the world "In recent months, our ability to develop and launch new products while preserving our traditions has accelerated impressively. We liked the idea of our reference designer, Francesco Paszkowski, who wrote and will continue to write glorious pages of Baglietto's history, joined by new young designers who can take a fresh look at our brand and reinterpret its personality without ever losing sight of its irreducible links with its history and identity "says Michele Gavino, Managing Director of Baglietto.
Development of R&D
In addition to this new line, Baglietto has focused a lot on Research and Development, in order to develop the brand and obtain a larger market place. Part of this development includes heavy investments in the yard's operating facilities. In 2020, Baglietto estimates that the total investment will amount to 12 million euros. After allocating ?20 million over the last four years to the construction of two industrial hangars and a general modernisation of the existing production facility, the worksite includes a third industrial hangar for superyachs up to 65 m in length and a new sheltered quay.