Back on production boats
Evinrude marks its return to standard boat equipment. The outboard manufacturer has Original Equipment Manufacturer (OEM) contracts for 10 European yards distributing the brands:
Zodiac, Bombard, Avon,
BWA
Ocqueteau
Selection Boats
Ranieri
Nordkapp, Sting
T.A Mare
Lomach
Saver
The last two partnerships with BWA and Zodiac, announced last June, show the strong will in this area, confirmed by Aymeric Lanier, BRP marketing director for the Europe zone.
Building customer loyalty
The purchase of a boater is often guided more by the boat than by its motorization. The customer will generally take the outboard brand proposed by the yard. If he is satisfied with the performance and after-sales service, he will remain loyal to his engine manufacturer for the following boats or remotorizations. Evinrude has understood this logic and therefore relies on an offensive strategy to offer packages like OEM with the major shipyards in order to build customer loyalty over the long term.
Site contracts also ensure regular order volumes for the engine manufacturer.
Easy installation and customised offers
In order to seduce the builders, Evinrude has worked on the integration of its outboards on the boats. The single sheath, which brings together all the engine controls, allows a clean and quick installation that appeals to shipyards whose dealers now tend to buy the boat with a pre-rigging. Assembly becomes extremely fast.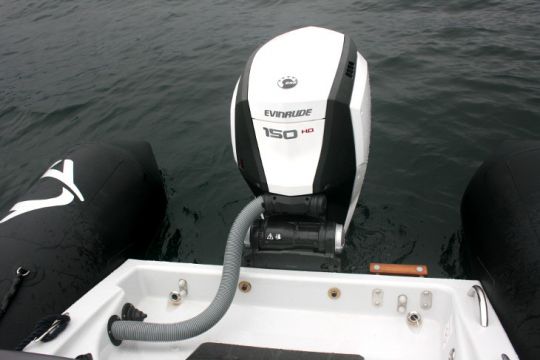 Mounting the motor controls
Evinrude's automatic i-Trim trim system can be optimized for each model of a brand at its request.
With these different approaches, Evinrude intends to consolidate a growing place in new boats.