A long-term project
Following a competition launched in 2002 by Bénéteau with its dealers to build a large dry port, Jean-François and Nicolas Mazan created the Portes de l'Atlantique. It took the project 11 years and 10 million euros of investment to see the light of day. After having lifted the administrative and ecological blockages and Bénéteau having abandoned the financing, the storage space for boats ashore was able to open in May 2013, on land initially reserved for a potential nuclear power plant, on the banks of the Loire, at Le Carnet, in Paimboeuf.
A complete offer
Les Portes de l'Atlantique does not limit itself to shore storage and offers a complete package of services to pleasure boaters :
350 storage spaces on ground-floor over 31,000 m²
Covered shed
Travelift Lift 50 Tons
60 m waiting and reception pier on the Loire, with a water depth of 2.80 m at low tide
Floating fuel pump
Repair boatyard, fairing, outboard and inboard mechanics
Depot sale of second-hand boats
The yard also offers its equipment and land to professionals such as Jeanneau for the fitting out and launching of the Prestige 680.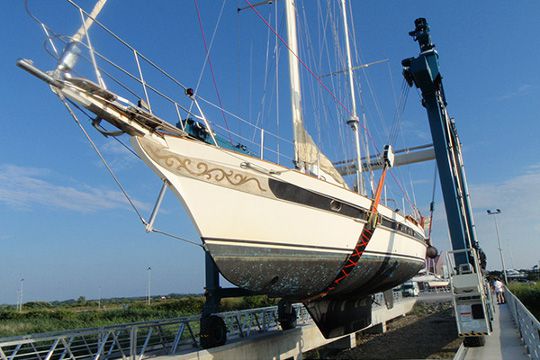 Travelift Lift 50 Tons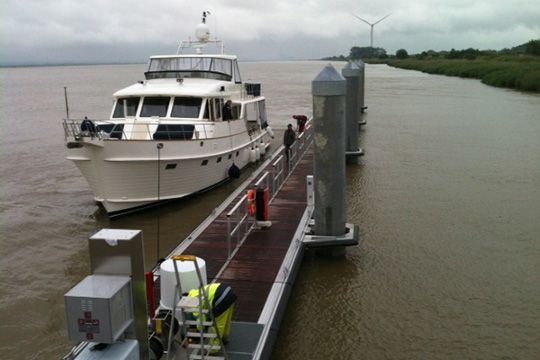 Pontoon with fuel pump
Sales and customers up
According to Nicolas Mazan, director of the Portes de l'Atlantique, the dry port finds its place. Deposit-sale activities also attract new customers.
Three years after the opening, the business plan is respected. The turnover in 2015 was 680 000 €, 50% of which was for crane, mechanical, etc. services, 40% for pure storage and 10% for the sale of second-hand boats, with an increase of 62%. The balance is expected within 3 years.
The company currently employs 7 people.
Possible investment and expansion
The company recruits investors regularly and easily, especially among its clients, according to Nicolas Mazan. If full filling is achieved as planned in 2019, expansions are possible on site.
The economic success of the Atlantic Gateways shows if it were necessary that the dry port is surely one of the solutions to the bottleneck of the marinas basins.