Based on innovation
Founded in 2011, the Pontos company's first objective was to offer a manual winch that would reduce the effort for the yachtsman. Many older owners had no choice, as physical strength diminished, but to switch to electric winches or reduce sail or boat size. For this, Pontos has developed its first innovative four-speed winch, without button, the Trimmer. It allows a sail under high tension to be tucked in effortlessly.
Ocean racing as a showcase
A second model was then designed, the Grinder, which allows the winch to be set up quickly. The performance it offers in manoeuvres has seduced many runners alone or with a reduced crew. Four of the 10 Class 40 boats leaving The Transat were equipped with them.
The sailors were the first market for Pontos, as they were the most inclined to invest in top-of-the-range winches if they allowed a gain in performance. Word of mouth has enabled rapid development on the regatta fleet since the start of large-scale marketing in 2014.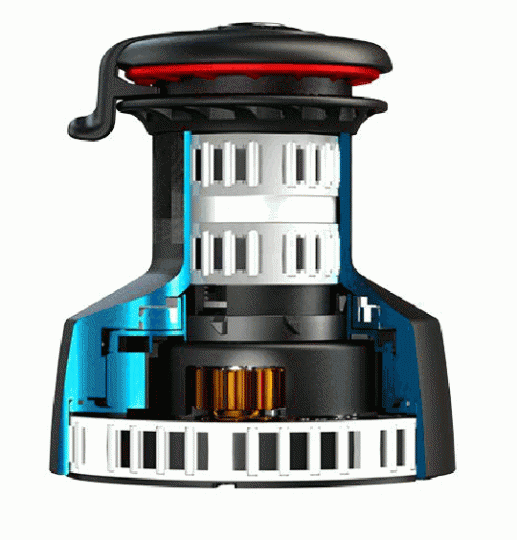 Evolution towards cruising
By benefiting from the image of the race, Pontos can now attack the cruise market with greater ease. While the Grinder represented 80% of sales at launch, it only represented 60% during the last financial year. With a much larger cruising yacht float, the objective is to continue to increase Trimmer's sales, which should become the majority.
Refit and niche building sites
Faced with competition from large players, Pontos haute-couture winches are positioning themselves on niche markets. Today, refit represents 90% of sales. The rest is available as an option for new construction boats with high added value. Thus, already 23 sites such JPK, Boréal, Marsaudon in France or Salona and Arcona propose the Pontos winches. Their number is constantly increasing.
An international clientele
Last year, 78% of sales were for export. Pontos relies on a network of local distributors on the 5 continents. Pontos UK is officially licensed for the UK, while a joint venture has given birth to Pontos US for the US market.