97% of the reserved spaces
For the 2016 edition, METSTRADE organizers are recording an exceptional reservation rate, with 97% of stands blocked six months before the event for the usual halls. The sale of the spaces in the new hall 7 is also well advanced, according to RAI Amsterdam.
Figures on the rise
Compared to June 2015, all the lights are green. The number of square metres rented in the SuperYacht pavilion is clearly increasing, while the number of exhibitors registered in the Marina and Chantiers pavilions, as well as MatÚriau de construction, is already equal to the number of exhibitors physically present in 2015.
A new 3000 m▓ hall
Anticipating the trend, this year the METSTRADE organizers have added hall 7 of the RAI Amsterdam. An additional 3000 m▓ are thus offered to visitors and exhibitors.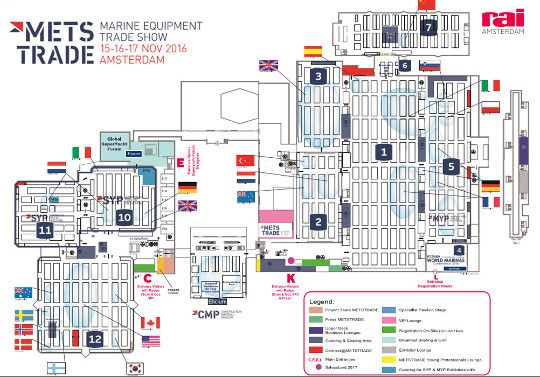 Newcomers
We can note the arrival of new exhibitors, such as Mapei, Nobiskrug and Pin-Craft in the SuperYacht pavilion or Marina Projects and Dockmarine in the Marinas and Shipyards pavilion.
The new exhibition space also attracted major brands such as Yamaha and Dometic.
Satisfied organizers
Irene Dros, METSTRADE manager:"It is a pleasure to reach so many bookings so early. It is also satisfying to see so many companies register to exhibit for the first time. This will help accelerate the growth of METSTRADE in the future as the meeting place for the global boating industry.