Some news from the Bi-Loup shipyard. Still produced at ShoreTeam in Caen, the Bi-Loup continue their new road. This company taken over by 3 shareholders launched a new model designed by Vincent Lebailly : the Bi-Loup 109 (read Sang Neuf !).
If number 1 is used as a demonstration sailboat, number 2 is being finished for delivery at the end of June 2016.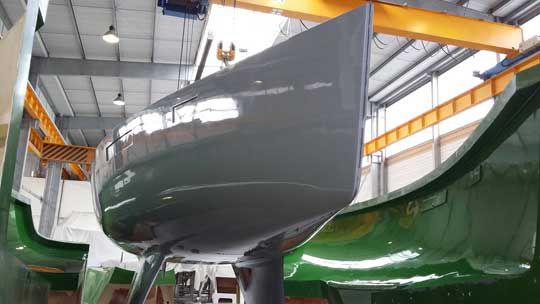 Compared to 1 er no. 2 will have the hull walls in foam sandwich in order to gain weight. A hull counter mould (the one that houses the bulkheads and fittings) was also made. It allows a faster and more neat construction. Finally the deck has been infused with a weight gain of about 100 kg on this piece alone.
The particularity of this specimen will be visible in the arrangements. The installation of the aft cabin berth is across the road. The owner also wanted an outside chart table, removing the one in the saloon, replacing it with a cross desk installed on a fridge. In the same way the front cabin will not be closed, but opened in the form of a Breton bed.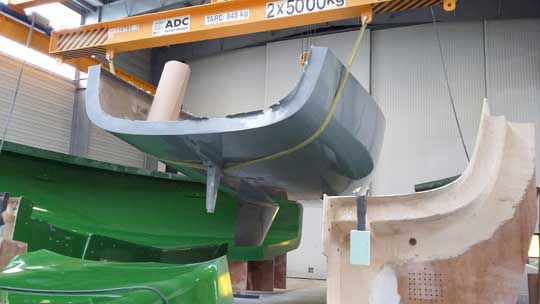 To follow, the hull of the Bi-Loup 109 n° 3 is already out of the mould. It is characterized by a dark grey gelcoat while the bridge is in a lighter grey. This boat is scheduled for delivery in December 2016.
No new orders in sight for this site except an owner who wants a delivery in 2018... But Vincent Lebailly remains confident. "The absence of a construction site structure does not oblige to push to produce or sell. The Wrighton shipyard uses only subcontracting, we have no obligation." And to ensure the confidence of these subcontractors, the yard simply integrated them among the shareholders.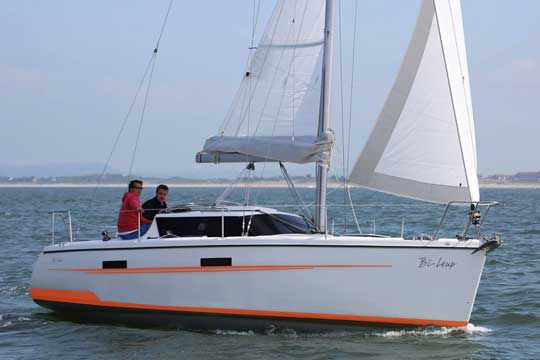 At the same time, two hulls of the Bi-Loup 78 remained after the purchase of the yard. The first has just been completed and is currently sailing even though it is not yet sold. These"small" Bi-Loups are offered at the attractive price of 55 000 €. Notice to amateurs!