What is the aim of the EcoTransat project?
To lead to the creation of a shipyard based on bio-sourced composites and mainly based on natural fiber. In the long term, we would like to offer ranges of sailing boats in small or medium series under our own brand. We really want to create a clean shipyard.
We are in a process of citizen transition. We want to change the habits of an industry.
For the moment, we are at the beginning of this adventure insofar as, apart from some promising experiments (Corentin Châtelperron, Roland Jourdain), but relatively limited, one cannot say that there are sailboats in series based on natural fiber. We are therefore embarking on a process of research and testing with regard to this type of material.
How do you plan to make sailboats from bio-sourced materials?
We finalized a cooperation agreement with the school of Alès Department eco-Innovation Design and Advanced Materials Engineering (CIGMA) which works on 2 aspects :
Mechanical tests of materials (wood, bamboo, jute, linen...) for prototypes
Design of new resins or materials used in the design of boats (varnish, antifouling entirely bio-sourced), because today it does not exist.
Currently on the market, Sicomin epoxy resin (56% bio-sourced and 44% petrochemical) is the closest to what we are looking for. Therefore, at the outset, not all the materials used will be fully recyclable as we understand it and will not be recoverable.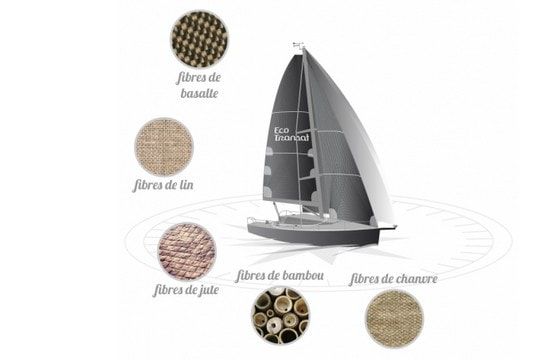 We are clearly in an eco-design approach: making sailboats with the best eco-materials. However, we are aware that we are not making totally ecological boats right away, but we are already reducing our ecological footprint.
To produce eco-designed boats, we hope, through research programs, to have fully bio-sourced resins within 5 to 10 years. There are recyclable resins on the market with bio-sourced resin logic, but of petrochemical origin (Arkema and Araldite). This is what we will use until research progresses, because it is the best available on the market.
We're talking about the hulls, but there's everything else: fittings, engine... But that's not the priority, because we know that solutions exist, it will be adaptation. Hulls are something truly innovative.
How to check that the boats are in good condition over time?
We are entering a 4-year test phase to be able to test the resistance of materials, durability, ageing, etc. in the laboratory. The materials will first be theoretically tested in the laboratory.
In a second stage, we will organize raids to be able to test in real conditions this type of materials and this type of sailboat. The good idea that Gilles had (Gilles Melon, initiator and builder of the boat) is to build prototypes on a racing boat plan: powerful, 7.50 m long, capable of going at 10/15 knots on average... to realize the behavior and condition of the boat in important conditions.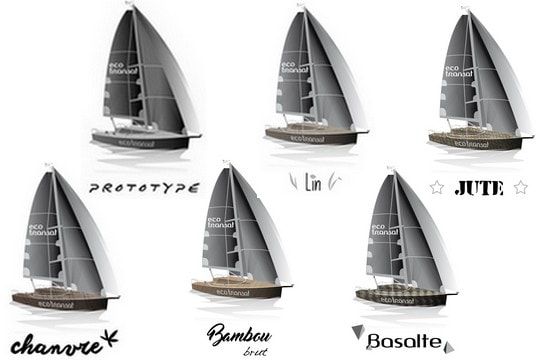 In total, it will be a course of 20,000 miles (40,000 km) in 2 years, more than the average achieved by most boats in 30 years. We'll make them live faster. They will all leave at the same time with interchangeable crews and will be of different nature, therefore with different performances (linen fibre, bamboo, wood, jute...)
One question that will be asked and answered at the end of this experimental period is"Won't boats be an assembly of several materials? What will be the best materials?"
Afterwards they will be completely dismantled to test the materials in the laboratory. These two raids will also be used to find sponsors to finance the realization of the prototypes.
How do you place yourself among the actors of the nautical industry?
Above all, we have a human ambition. We want to remain a spearhead of eco-nautism and do not want to be a great entrepreneur. But if our work is successful - the research work of student engineers - it can be transferred to a whole host of other applications: building, design, furniture... anything that uses composite materials.
In all cases, we are in a social enterprise logic that responds to an unmet or unmet need in our society. Our logic is to create jobs (with the creation of a construction site), to be a corporate citizen and to have an economic and financial profitability of our project and to serve this project.