The new Dehler 34, which will be presented to the public at the Autumn 2016 trade fairs, is currently under construction. The opportunity to review the construction technique used by the site.
The hull is sandwich. This means that a strong thickness of balsa (16 mm) is sandwiched between two layers of resin and glass fabric. Rigidity is ensured by the thickness of the sandwich and not by the strength of the material used in the middle. So we use very light materials like balsa or even honeycomb. Using sandwich therefore has a big positive impact on the weight of the hull.
For its resin, Dehler uses a vinylester resin. In comparison with polyester resin, the former is not subject to osmosis. As on all polyester boats, the outer layer is a gel coat. Dehler applies himself to make the waterline in navy blue directly in the mold. It's not an adhesive or an attached paint. So it won't come off in time.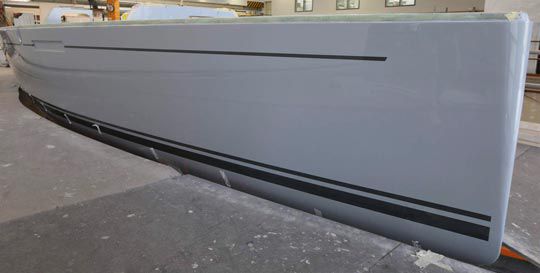 Once the hull is out of its mould, and before installing the fittings, Dehler installs a structure at the bottom of the hull which takes up all the efforts of the boat. This kind of spider, called Dehler Carbon Cage, is made of carbon. It is there to ensure the rigidity of the whole boat (mast foot, chainplates, stays mainly). A rigid sailboat is the guarantee of good performance under sail, especially upwind when the forestay must be perfectly taut.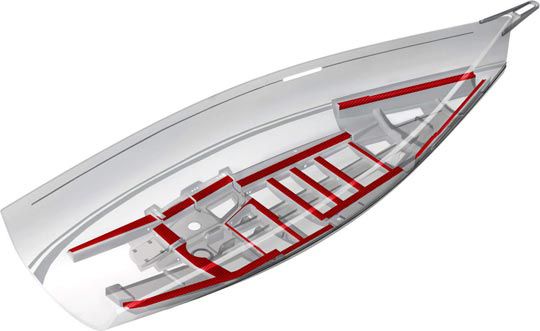 This system developed with the architectural firm Judel / vroljik & Co replaces the traditional steel structure that could be seen on the old Dehler 34. It is associated with this boat which wants to be a true"Performance/Cruiser". Remember, the Dehler 34 launched 30 years ago was a great commercial success with this positioning, new for the time, of fast and comfortable sailboat. The yard, with the new Dehler 34 hopes to honour its elder... Response to its launch in August 2016 !
Dehler 34
Length HT : 10.70 m
Length at waterline: 9.60 m
Width: 3.60 m
Draughts :
2.10 m (competition T-profile keel)
1.95 m (L-keel)
1.55 m (L-keel)
Aluminium mast (carbon option)
Upwind sail area: 65 m2 (optional 71 m2)
Tiller or 2 wheel steering
Powertrain: Volvo 18 hp sail drive
Base price: 108 500 € HT